Not setting up a proper, pro-looking email address is one of the silliest mistakes many small business owners make, especially as it's one of the easiest to avoid!
After paying the fee for a website domain name (eg. mynewbusiness.co.uk) and proudly displaying the URL for your shiny new website, www.mynewbusiness.co.uk, on business cards, flyers and vans etc., many people then go and splash an ugly advert for a free email provider on their van: mynewbusiness@btinternet.com or mynewbusiness@yahoo.co.uk
This is such a shame as it immediately and negatively affects the perception of your business. This clearly isn't ideal, as when you're trying to attract new customers, first impressions (no matter how subconscious) are key so you really want to make it clear that you've got all your ducks in a line.
Put yourself in your customers' shoes for a minute – they may be thinking about spending a considerable sum of money with you, and/or trusting you with something major… will they really feel fully confident emailing someone on an @gmail.com email address? Or would an email address like sales@thiscompany.com instill more confidence?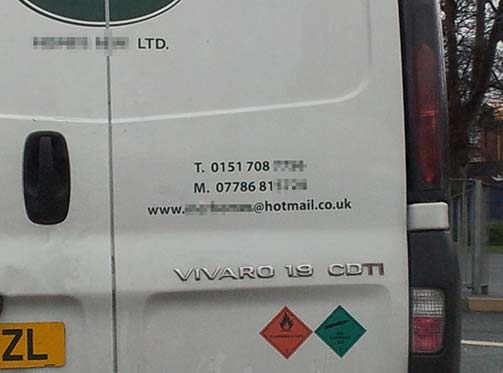 To resolve this, sign up for Gmail For Business so that you can create as many mailboxes as you like (eg. for different staff members eg. your.name@mynewbusiness.co.uk, as well as generic email addresses (eg. sales@mynewbusiness.co.uk) which can go to a group of people within your business.
Your business, and all your marketing, signage, business cards etc. will immediately look much more professional, and you'll give your customers the confidence that they're dealing with a proper, well-structured company. Plus keeping everyone on the same domain makes managing the operation much easier.
You can get a 14-day free trial of Gmail for Business, and if you contact us privately we can give you a code to get a nice 20% discount off your first year – even if you're not yet a customer of ours. No excuses now!
We encourage all of our website design clients to make use of G Suite in order to manage their business in the best way possible, keeping a slick and professional public image. Plus, after we've designed your website for you we will happily set up your email for you for no additional cost, and walk you through managing it going forward.
So, if you need a new website or if you just want to get your company's email working better and looking professional at the same time, get in touch to see how we can help!