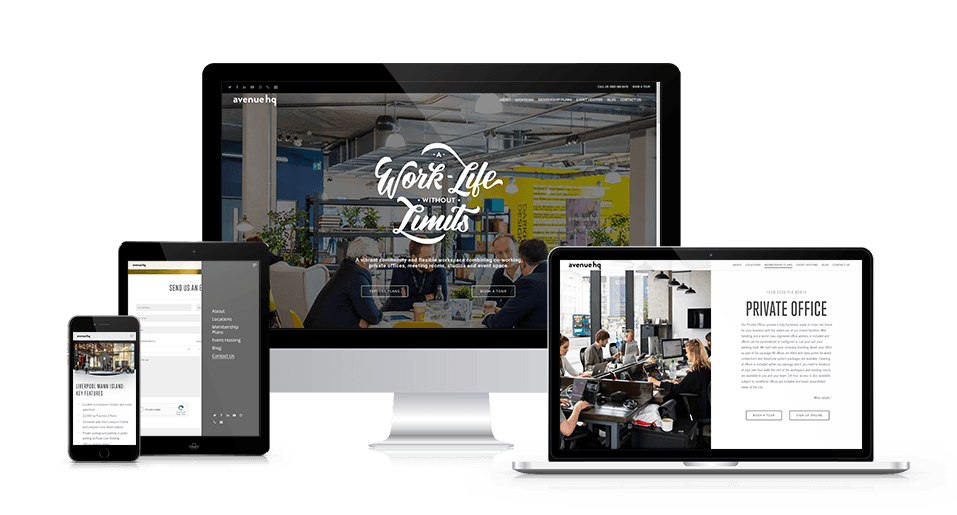 Today we're very pleased to announce the launch of a brand new website for Avenue HQ, a new space here in Liverpool offering co-working and private office spaces to freelancers and small/medium businesses.
With plans to expand into Leeds later this year and other cities and locations in the pipeline, AHQ looks set to become a dominant force in the world of co-working office spaces, so it was a pleasure to be approached to design the brand's website. We wanted to produce a website design that reflected the brand image and the personality of the company's founders: bold, confident and fun – not taking itself too seriously whilst still maintaining a professionalism alongside the light-hearted and friendly vibe.
The website makes good use of some truly stunning photographic imagery, and a number of subtle animation and parallax effects work to give the website more depth and to create an immersive and pleasurable viewing experience to visitors. Naturally, the website is fully responsive and looks great on all devices from a tiny little iPhone screen right up to a full-sized monitor.
There were some interesting design challenges to overcome with this project – namely that the website needs to serve more than one audience at the same time, making it easy for visitors to find the information that they're looking for quickly, regardless of their needs. The site needed to be attractive to solo freelancers looking to use the space's hotdesk area, to larger and more established teams looking to rent a private space, and also to external companies interested in hiring various event spaces for regular or one-off events.
One of the key requests from Avenue HQ at the start of this project was for the website to include a blog, so that the marketing team can continue to publish new, fresh and relevant content to the website on a regular basis, providing a free service of advice and information to both members and non-members, drawing new and returning audiences to the website time and again – and helping to boost the website's SEO whilst they're at it!
As always, we provided Avenue HQ with complimentary training as part of their initial website package, enabling them to post new blog articles as well as make basic changes to the website themselves, and we look forward to working with them on an on-going basis as the website continues to grow and evolve as their business does!
Adam Lowe, Avenue HQ's marketing lead, said: "We are delighted with our new website. Innobella Media executed our brief perfectly and worked closely with us at every step along the way. It's a pleasure working with them and we would recommend them to any business."
You can explore the website here: https://www.avenue-hq.com/