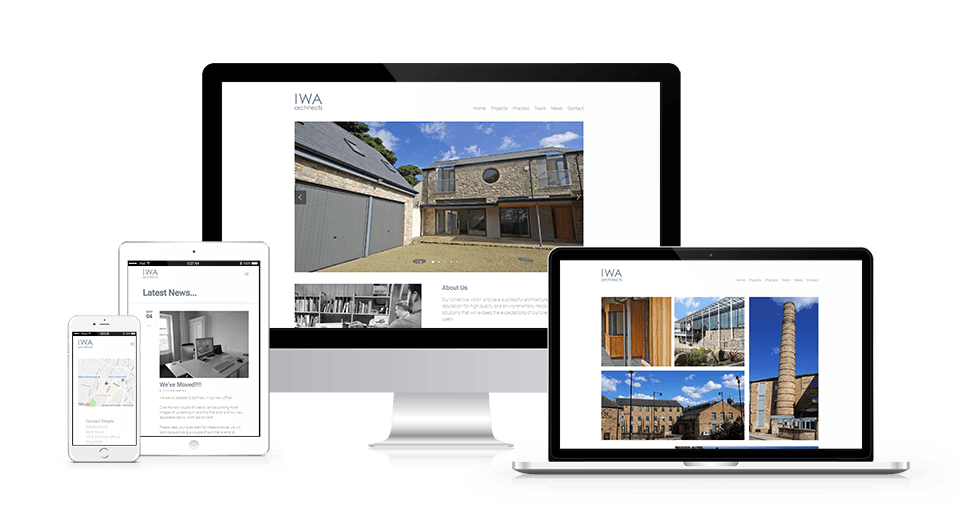 A long-time client of Innobella Media saw their brand new, redesigned and refreshed website launch today after they commissioned us a second time.
IWA Architects, based in Clitheroe and serving clients throughout the North West of England and all of the UK, wanted to place a renewed focus on their online and digital marketing and to launch a blog alongside their new website. A happy customer for nearly 10 years, they recognised that the Internet has changed almost beyond recognition in that time – not least in terms of connection speeds and the devices that are used to view web pages.
With that in mind, we designed a brand new, responsive and mobile-friendly website for IWA Architects, making use of the latest technologies and standards in order to help their business grow and succeed.
Built on the WordPress platform, this enables staff at the company to write new blog posts on a regular basis to keep current and prospective clients informed and excited about their work within the industry, as well as creating fresh new content to help the website climb up and stay high in search engine rankings, so that new customers can find their business more easily on Google.
As with all our clients, the staff were also given complimentary training in making basic changes to the website themselves, and they can also take advantage of our client service & support agreements meaning that an expert helping hand is never more than a phone call away to resolve any issues or make bigger changes and additions to the website.
The website is designed with IWA's target customer in mind; showcasing some of the best of their previous work in beautifully-arranged grids of differing sizes and dimensions within their website portfolio.
Visit the website: www.iwarchitects.co.uk