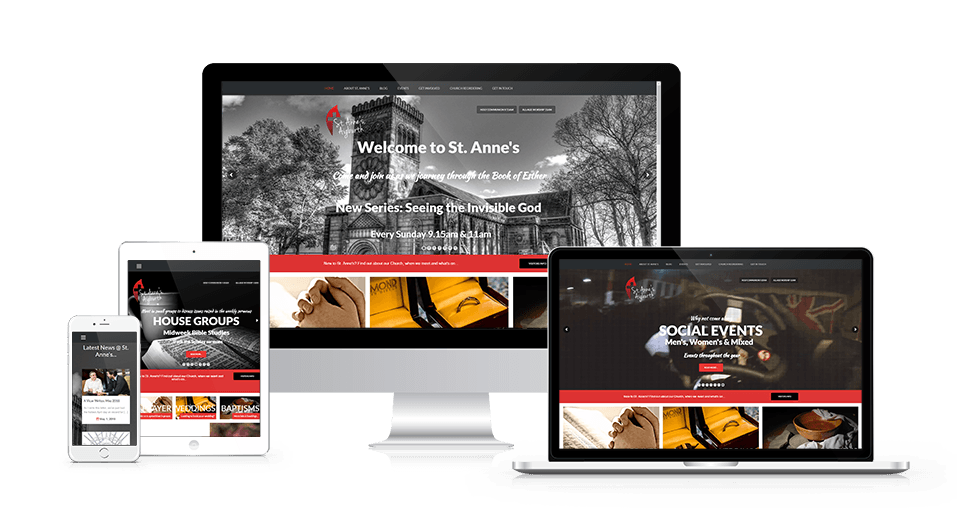 Today we launched a brand new website for St. Anne's Church in Aigburth, Liverpool. Their old, previous-era website had been showing its age for a long time, so they approached Innobella Media to design a website fit for the modern era which would serve not only the church and its congregation/members but the wider community too.
We designed a modern, fun and functional website which works and looks great on all devices due to its responsive design. We also produced several photographs of the church building – both interior and exterior – as well as various "stock image" style photographs around the church and at various events, to accurately and vibrantly reflect the life of the wider church community within the website.
As well as a promotional tool for any business or organisation, a website can serve as a superb source of information for those already involved; in this case, the "who's who" section – for which we provided Portrait Photography services – serves as a useful resource for church members as well as helping the church to meet its requirements towards safeguarding.
The website's standout feature is the Sermons section – where weekly sermon recordings are made available via a globally distributed Content Delivery Network, so that those unable to attend (or who just enjoyed the talk so much they want to listen again!) can listen via their computers or mobile devices.
Another key feature of the new website is the Blog feature, which allows the church's vicar, Rev. Ian Greenwood, to write a monthly blog post on the church website, which is also then shared to the Facebook, Twitter and Instagram social media profiles which we helped set up.
Visit the website: www.stannesaigburth.com