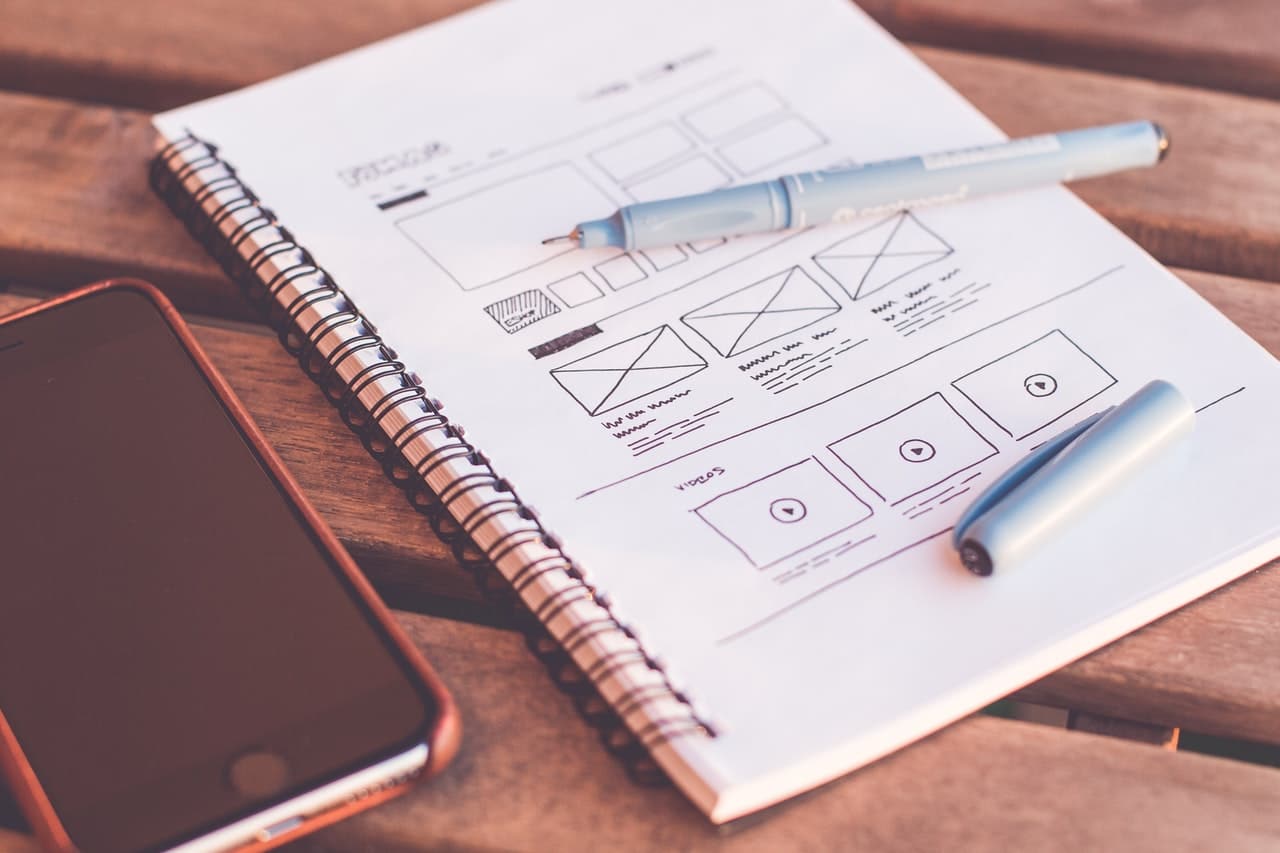 If you've just launched your business, or you're in the process of doing so, it might be tempting to make a quick-and-easy website yourself the DIY way with something like Wix or Squarespace. After all, why not? It's "free", quick and easy to set up a website which looks really good even if you have no web design experience whatsoever! Then you just pay a small monthly fee to host the website and have it publicly accessible on the Internet… and in some cases even this can be free, too!
So, should you do-it-yourself and make a website with tools like Squarespace or Wix?
The barrier to entry of our two key services – website design and video production – has dropped massively during the 20+ years we've been doing them. For example: good, professional-quality video cameras are no longer niche pieces of equipment, they live in everyone's pocket! I would have thought you were stark raving bonkers if you'd said that to me back in 1997.
The same has gradually become true of website design over the same period. In the early days we had the likes of FrontPage Express (I'm showing my age now…) and Microsoft Publisher, as well as more pro tools like Dreamweaver, and now we have browser-based website builders like 123-reg's Website Builder and the big names like Wix and Squarespace. It's never been easier than it is now to build a website yourself, even if you've never done anything like that before. Simply choose a great-looking template and customize it with your business name and logo, plus a couple of your phone photographs and Bob's-Your-Uncle… it's done!
So just use Wix or Squarespace and forget web design companies then?
Well, not quite! Clearly I'm going to be somewhat biased in my general view on this, as the purpose of running a small business like Innobella Media is to (surprise!) earn a living to support my family and myself. Designing & building websites for clients represents a huge chunk of that so I'm not exactly going to go shouting from the rooftops that you're better off elsewhere and/or doing it yourself!
However, it might surprise you to learn that I don't think the DIY website-builder option is always a terrible idea – especially if you're just starting out and have zero budget. Plus, it can be fun – and there's nothing wrong with you trying new things! In essence, I wouldn't really consider tools like Wix and Squarespace to be "the competition", rather it's a completely different – and sometimes appropriate – way of doing things, which can work great for some people (at least in the short term).
Obviously we're a web design company, so we'd like you to come to us to help you build a fantastic new, responsive website for your company. But we don't always discourage the DIY approach initially… it can sometimes help in the long run.
We've had clients in the past who were still fairly new startups and still didn't really know who they were or precisely what they did and didn't do. Businesses like this aren't always ready to be a web design client of ours yet. They're finding their feet. They're developing their identity first. We want your experience with us to be – among everything else – a really cost-effective one. So, scrapping and entirely re-designing a website after 6 months because your business has evolved so much might be great for us in the short-term (two sets of fees, yay!) but it's not going to be great for your cash-flow and budget.
We're interested in building good, mutually beneficial long-term business relationships with our clients, not short-term money-grabbing. So it has to work well for both of us – if that means a brand new startup choosing to adopt the DIY approach whilst their business finds its feet, for the long term better good, we're all for that!
Plus, an existing DIY Squarespace website can sometimes act as a helpful blueprint and starting point for your new website – it certainly looks much better than the back of a fag packet!
When it's time for a website built by a professional
When you first start a new business, especially if you're a one-man(or woman)-band to begin with, you have to wear lots of hats and do all sorts of things yourself, and sometimes that might include setting up your first basic website. Nothing wrong with that. But after a short while, as your business begins to mature, you start getting in professionals who specialise in their field to do certain things – and your website should be no different. Are you actually a website designer? If not, don't pretend to be one! Your website is one of the most important assets that your business has and is absolutely key to its success. Your business depends on your website, so invest appropriately and don't cut corners you'll live to regret.
Buying an expensive camera does not a professional photographer make.
Owning a tool is one thing, but having an electric drill and a hammer in your garden shed doesn't make you a builder capable of building an entire house. DIY website builders like Wix and Squarespace hold your hand and take care of 99% of the work for you, and can create some cool and very nice looking websites, but try and stray too far from what the template allows and you can run into a brick wall very quickly. That hand-holding equates to making a lot of the key decisions behind the scenes for you, in ways that can't be undone, altered or optimised to suit you best.
In many cases it may be far better to have an expert and experienced web designer working with you to produce something unique and special. Plus, that way means you don't have to do all the work yourself, so you free up more time to do what you're best at – running your business!
Want the best for your business? Use a professional website designer who's knowledgeable and experienced.
How are you going to structure your website's content? Are you resizing and optimising images before you upload, so you don't cripple your ranking chances on Google? What <H1> and <H2> titles are you using on the pages, and what keywords and CTAs are being used in meta descriptions for SERPs? Are you properly tracking page optimisations and conversions, keeping an eye on bounce rates and landing pages to make data-driven decisions? Is all this just gobbledegook?
Rome wasn't built in a day, and quality and good performance don't come "cheap". How much money might your business be losing as a result of a poor-performing website?
The Catastrophic Business Cost of a Poorly Performing Website…
Using a professional web design company like us means we can really fine tune your website to improve how quickly it loads, how well it works on mobile, and a host of other things that are essential for good SEO so that people find your website in Search Engine Results Pages (SERPs) like Google. One of the most common complaints I hear about DIY online website builders is that they make it really easy to build a website that looks really good, but not necessarily one which performs really well. And if no-one's finding your website, no-one's seeing it – and like a princess locked in a castle's dungeon those good looks are irrelevant and clearly going to waste!
More to the point, though – your business might fail to ever take off and end up going bankrupt if you have a website which doesn't perform well. You don't want to be sat there scratching you head (or licking your wounds) saying to yourself, "Why am I broke? My website looks LOVELY!" – get a professional on the job before it's too late!
We will work closely with you, take time to understand your business, listen to your needs and help you define goals which will then be translated into an ambitious plan not just for your website, but your wider online and digital marketing strategy. We don't just build websites – we can help you with your social media marketing, high-quality photography and even promotional videos for your business. By doing this all with the same agency, you can have a really joined-up marketing strategy where each piece of the jigsaw puzzle fits really well with all the others.
Website Bells and Whistles You Might Not Have Even Thought Of!
We can also embed other useful features into your website like "heatmap" generators to really look at where users not only click but where they linger and pay most attention to on your pages. Used in conjunction with Google Analytics, this can really help us and you to fine-tune your website and its pages over time as part of an ongoing business relationship with us on a monthly retainer package. This means you're buying a set number of hours per month (at discounted rates) where you can either sit with us (in person or via phone/Skype) to discuss and continuously improve your website, or just to ask us to keep working on new or updated elements on your site – we can even write blog posts for you if you like!
With Wix & Squarespace You're Stuck Right There…
If you build a site with Wix or Squarespace then you're tied into using them as your hosting provider and in some cases this even means putting up with ads on your website! Hardly a professional vibe. If you wanted to move, you'd have to literally start again and build a brand new website from square one. That might actually be what you want to do, but it also might not be ideal!
We usually build websites for our clients on top of the well-known platform WordPress, which also apparently powers 34% of the entire web! Just think about that for a moment; 34% of all websites out there on the Internet are built using WordPress! As well as its ubiquitous nature and ease-of-use, one of the many great things about WordPress is that you're not tied to hosting your website with WordPress themselves, it's a piece of open-source software which can be (and is) run on many thousands (if not millions) of web servers all around the world.
So after we've built your website, we can host it for you too. You're not tied in to having us host it for you, you're of course free to take it and have it hosted pretty much anywhere which supports WordPress (which is pretty much everywhere). However, it makes perfect sense to have us host your website after we've built it for you, because:
We sort your domain and DNS routing for you
We sort your SSL certificate and security for you
If you've got no idea what either of those first two bullets means – then great, you don't need to – we sort it all for you!
We built your website in situ – meaning that once it's "built" it's all ready to go and there's no migration or extra setup – this happens during the build itself. Once you're happy with your website and the balance is paid, we can activate your website and go public instantly!
So we'd love you to host your website with us too, and hope you will – but we certainly don't tie you into doing so!
What's best for your website?
So, should you have a go at building your first website yourself? Maybe! It can be a great idea if you have no budget but do have time to tinker, especially if you're a brand new business and just need something half-decent fast to get you going. They can be a great temporary stop-gap solution and a stepping stone to a full-blown custom designed website as your business matures and you know what you really want/need.
If you're at the stage where your business needs a really good, well-performing and professionally-built website then please get in touch with us! We'll start by undertaking a free, no-obligation review of your current website and entire online/digital marketing strategy including your social media presence, and come up with a personalised plan of action just for you.
We look forward to your call!